Le Tube of summer
Le Tube Restaurant presents summer flavors to share at Cbeach
From Wednesday to Sunday evening from 7 pm to 1 am
Chef Vincent Tutino offers a tasting of his specialties (in the form of hot, cold and sweet tapas) inspired by Mediterranean cuisine …
Live a sharing experience to enhance your dinner with multiple refreshing flavors, a parade of small dishes prepared with finesse and elegance.
At the time of the Sunset or to live an unforgettable evening that will vibrate your taste buds, enjoy the innovative cocktails proposed by our bartender Lucas, in an exceptional setting on the Croisette.
A convivial moment that can be shared in a group, with the family or with the kids, led by Alexia and the Tube team, always attentive and whose welcome will mark the spirits!
Music & Ambience: Lounge / Casual Dress Code & Glamor
LIVE DJ & artist
Tapas By Chef Vincent Tutino
" The chef at Le Tube restaurant, Vincent Tutino, offers you an inventive menu and tapas prepared with finesse and daring. What to make vibrate your taste buds." 
Let yourself be transported all summer in the culinary world of Chef Vincent Tutino with his tapas worked with love. Around seasonal products, choose your Cold, Hot or Sweet Tapas inspired by the Mediterranean. Poule Fiction, Exotic Duo Beads, Nice on the Croisette, Angel Wings, are some of the titles as original as the taste.
Cocktails By Lucas Bellini
« And to best accompany your tapas Our Chef Barman Lucas Bellini gives you a unique experience combining subtlety and discovery around his exclusive creations for the beach CBeach »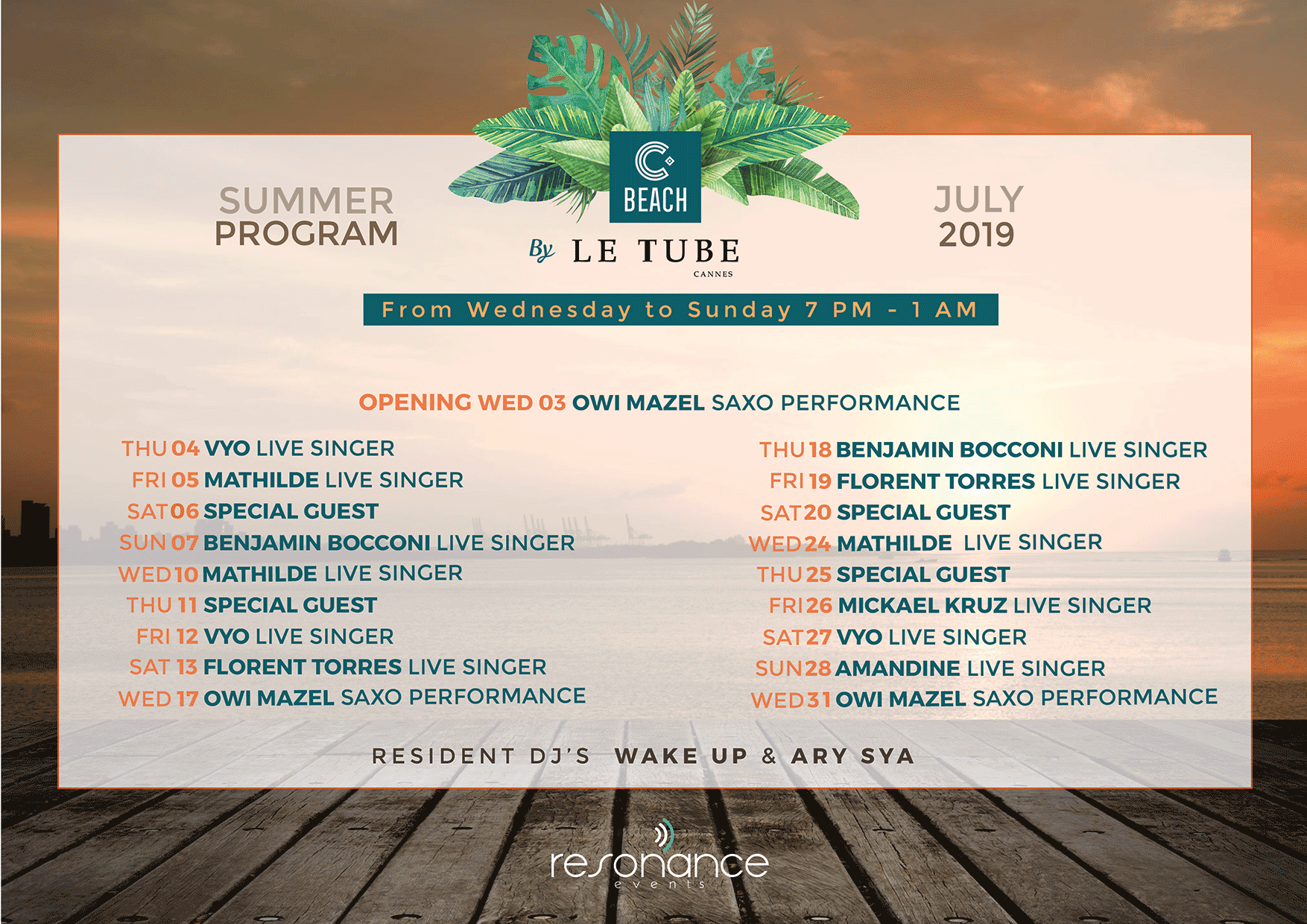 Latest news of the evenings